Back to blogs
Global Tech Talent Trends 2022 - Part 2
Posted-on December 2022 By iO Associates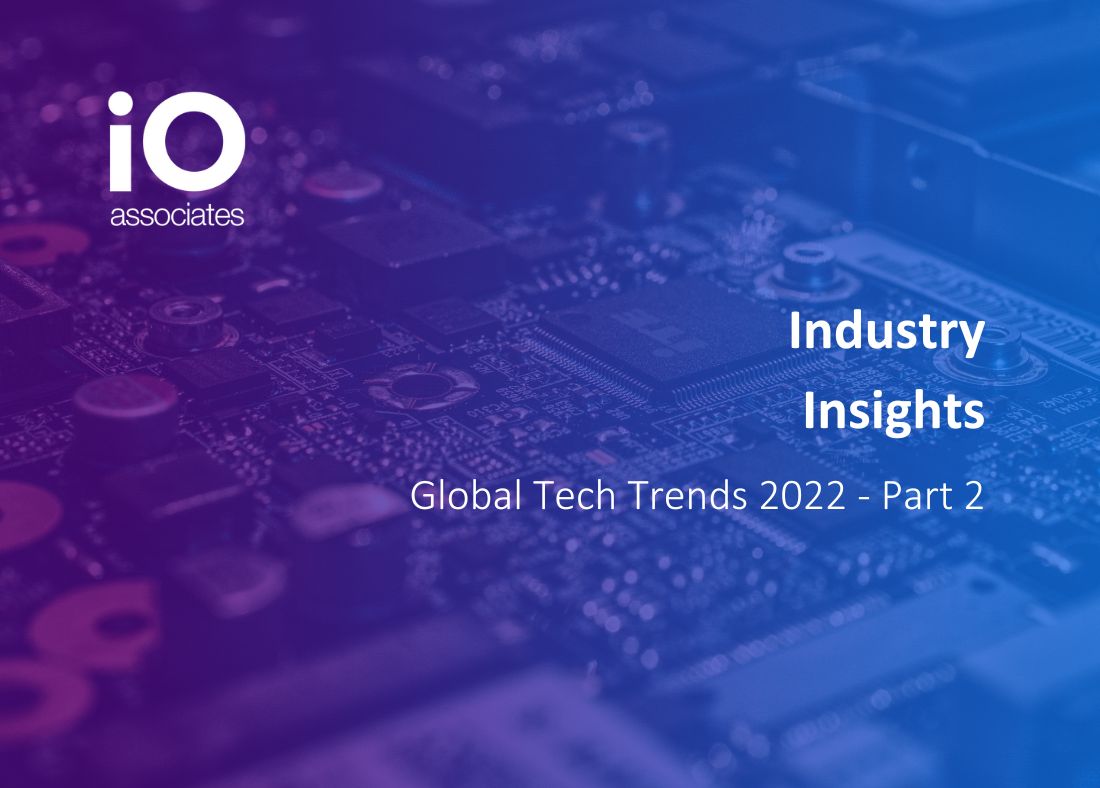 ​
Part 2: Global Workflows, Remote Work Status
This year's Global Tech Trends report has now been released, and its contents prove that the tech market is no exception to the drastic change the world has faced in the last two years.
This report has an ambitious global coverage and is powered by data from 6,568 respondents worldwide. With the tech industry rapidly adapting to accommodate a higher percentage of non-male counterparts and flexibility to work remotely, the reports purpose is to help companies understand the new nature of global tech and how they should position themselves to hire and retain the talent they so desperately need.
Featured in part two of this two-part blog series will be the latest particulars surrounding the current global workflow and the status of rising remote work.
Global Workflows
Within each continent, the global workflow varies largely. For example, the European workforce is vastly local but is seeing an increase of African workers, largely due to the superior time zone compatibility in comparison to other geographies. Comparably, the Asian tech workforce has a lot of African workers too. Distance and work migration are clearly not considered obstacles to pursue greater work fulfilment and can often reap benefits such as higher wages and an increased standard of living.
The report concluded that similarly to Europe much of the African and South American workforce is local. However, antithetically, the North American market has a large representativity of workers from other continents (roughly 37%).
Remote Work Status
Reasons to work remotely for a company across borders include opportunities such as better standards of living and quality of life, better salaries, improved work life balance, and more freedom. Because of this Europe appears as the top destination to travel to for access to remote. In general (as will be explored here) tech professionals are very open to relocate to another country or continent.
Regarding the motivation to work remotely for a company across-borders, evidence shows that tech professions from across the globe are highly motivated to work remotely for a company in another country. Globalization of tech work has become a reality. Covid-19 brought the development of remote work, helping to bring down the cultural barriers that still existed, both from companies and tech professionals.
Interestingly, there are a lot of discrepancies surrounding Europe its remote work relationship. Europe sits on the polar of the spectrum, with the lower motivation for this mode of work. But shares more openness to work remotely if located inside Europe's borders.
Again, the studies proved that Africa, South America, and Asia have the highest desire to work for companies in other continents possibly in search for a better quality of life.
In 2022, Asian and African tech professionals attend office spaces the most. South Americans are the winners in the full-remote mode, and Europeans in the hybrid mode. The world has really changed towards remote work, and full office is definitely not what it used to be, by a long shot.
Across both part 1 and 2 of this blog series, data from the 'Landing Jobs' Global Tech Talents Trends consistently proves that alongside the rest of the world, the Tech industry is moving towards a remote future powered by highly motivated forward-thinking employees.
The competition to score highly talented personnel will likely see an increase as employee demand rises to fulfil personal ambitions. Looking for a new job? Please get in touch with us to discuss your hiring needs.
Alternatively, to read Part 1 of this series, please click here: Part 1
​