Back to blogs
Global Tech Talent Trends 2022 - Part 1
Posted-on December 2022 By iO Associates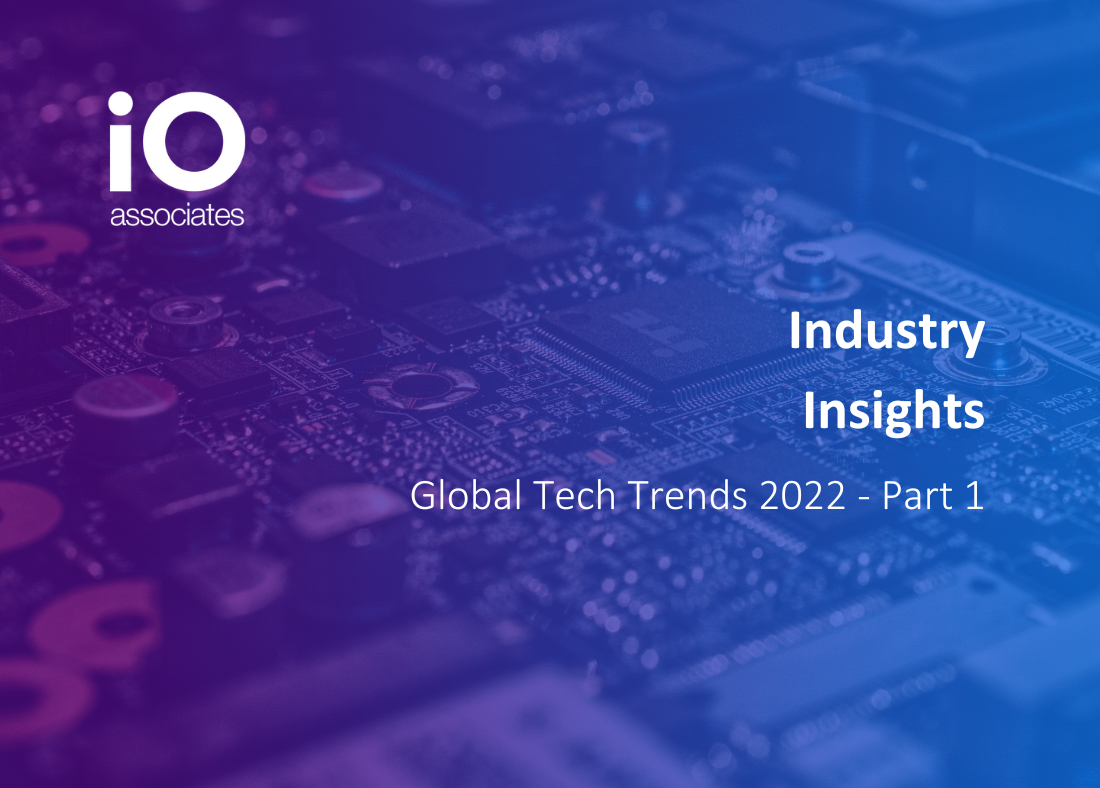 ​
​Part 1: Career Drivers, Career Management, Salary and Perks
This year's Global Tech Trends report has now released, and its contents prove that the tech market is no exception to the drastic change the world has faced in the last two years.
This report has an ambitious global coverage and is powered by data from 6,568 respondents worldwide. With the tech industry rapidly adapting to accommodate a higher percentage of non-male counterparts and flexibility to work remotely, the reports' purpose is to help companies understand the new nature of global tech and how they should position themselves to hire and retain the talent they so desperately need.
Covered here will be the essential facts and figures on topics surrounding Career Management, Professional Experience, as well as Salary and their adjacent perks.
Career Drivers
Of the 6000 plus respondents, over 85% of tech professionals work full time. Landing Jobs™ found that salary and work life balance matter the most to tech professionals, with career progression following closely behind. Due to this evidence, it could be of significant value for tech companies to create a holistic push towards a healthy working schedule to accommodate the largely competitive tech job field.
More recent generations have more non-male professionals joining the tech industry (with North America leading the way with over 25% of their current market composed of non-male professionals) which is an extremely positive sign for the future of STEM industries. However, research also shows that women within the tech industry, on average, tend to favour 'softer' career drivers such as ones' cultural fit to the company and adequate schedule flexibility, compared to men who are typically geared towards higher risk drivers such as technical challenge. Whilst this conclusion should not cause further gender segregation within the workplace, its findings do prove that a wide variety of career drivers could provide your company with gender diversity and a greater set of STEM skills.
Career Management
Data shows that by continent Africans are searching for new jobs at the highest rate with North America and Europe both highly unmotivated to change jobs. Possibly as a consequence of the unsettled political agendas in the West that keep people suspended from considering alternate career paths. Perhaps for some within African regions, the local tech career market simply doesn't satisfy growth needs, leading to a desire to move and find more challenging work elsewhere.
In line with popular judgment, for employees LinkedIn is still the top choice for tech professionals searching for jobs. For those working at PRG this aligns well with our ethos and work focus surrounding our LinkedIn leading attitude to reaching potential clients and candidates.
The research study found that senior employees (with more than 9 years of work experience) were the most represented group, and that job permanence correlates directly against this job experience. Roles such as Business Application Professionals were concluded to suite those with higher career experience and permanence, compared to Data related jobs which tend to be labelled as younger roles.
The report further highlighted dramatic gaps in global tech industry management. Respondents in Africa and Asia have the lowest average working experience highly limiting career opportunities and job permanence.
Salary and Perks
Overall, the preferred job perks over 2022 included health benefits (19.8%), annual bonus schemes (18.2%), and training sponsorships (17.2%). Curious about what job perks PRG offers? Drop us an email!
Despite the improvements for gender representation within the tech industry there is still much work to be done. Male salaries varied positively more than Females (by around 11%), and females saw their wages lowered more than Males. Definitely not a good sign for diversity efforts.
Generally speaking, data suggests that contactors tend to earn more than full-time employees. Management roles are among the highest earning tech careers. CTOs' in Europe earn hugely more in mid-level to senior roles, it pays to climb the ladder all the way. Solution Architects also earn seriously high figures in Europe.
Salary Variation has seen DevOps, Mobile, and Back-end developers having the highest positive salary variation rates among job roles. Technical Team Leaders are also being progressively valued by companies.
Average salary variation among the top five most used programming languages is low (Java, Python, TypeScript, JavaScript, C#) probably due to the massification of their use. However, less used languages such as Perl, Lua, Elixir and others are better paid. Investing personal time into upskilling your programming knowledge could have hugely beneficial outcomes financially.
Conclusion
The general consensus here is that post pandemic employees are searching for tech work that provides flexibility, comfort, and financial stability. Whilst companies are willing to reward those with a higher set of experience or skills.
At iO, we are always looking for committed tech talent to join our team and take on the abundance of opportunities we have to offer. If you're interested in finding out more send an email toinfo@ioassociates.com or check out our website for more details About iO.