Back to blogs
Introducing Josh Franklin!
Posted-on September 2021 By iO Associates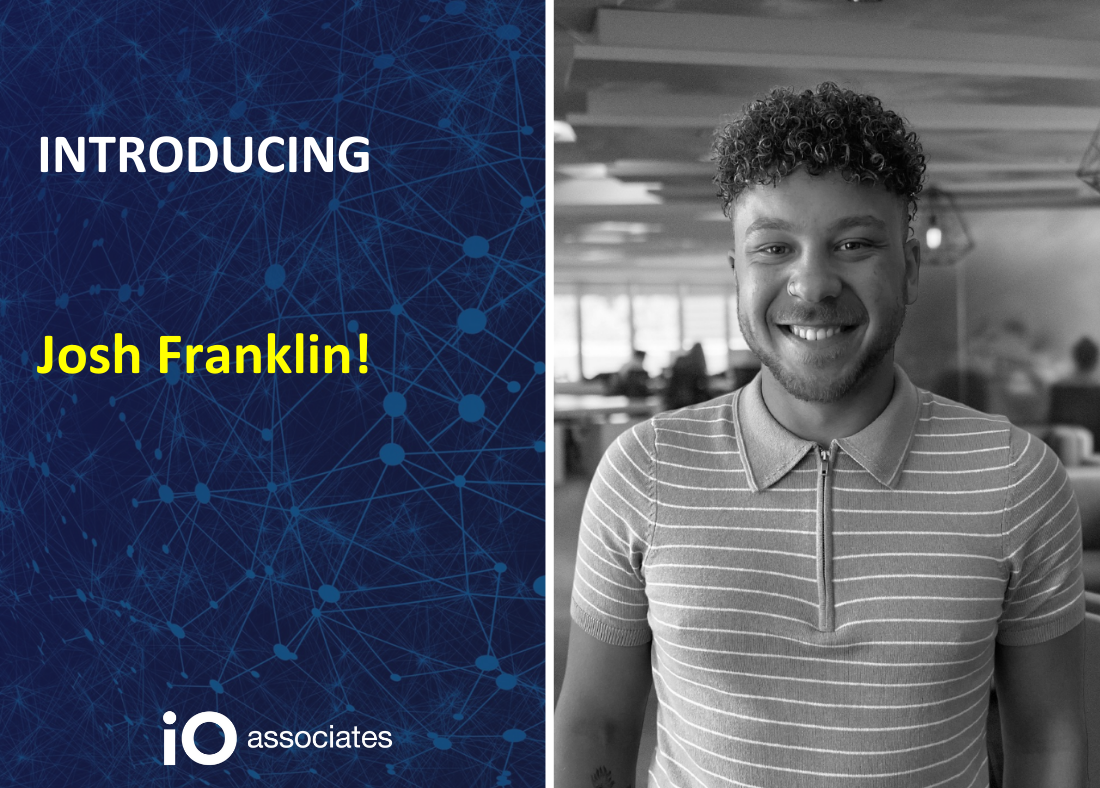 ​
iO Associates are thrilled to announce another new addition!
This month, Josh Franklin has joined our top-performing team, based in our UK office, as a delivery consultant.
We spoke with Josh this week to find out a little more about his experience, his specialisms and what he is most looking forward to. So join us in meeting Josh!
How did you first get into recruitment?
Since leaving school I have always been told I would make a great car salesman. Perhaps it's my way with words, but I have always been able to hold a conversation regardless of whether I had any knowledge on the context. After working in sales for 4 years, I found that rather than pushing a product, what I enjoyed most was my interactions with the people and developing relationships. I pretty much fell head first into recruitment after taking a career break, during which I initially interviewed for an admin position within a recruitment company and was recognised as having potential as a recruiter, and was offered that position instead.
How long have you been working in recruitment?
I have only worked in recruitment for 4 months, though it feels like it has been a long time coming. I have now almost certainly found my dream position working for such an amazing organization.
What are your specialist areas/chosen fields?
When I first started in recruitment, I was tasked with managing and resourcing van drivers and drivers' 'mates'. Having never dealt in worked in recruitment, I found that half of the job consisted of finding candidates that were actually willing to work. After Covid I knew that for some it was going to be really difficult returning to the working world, so I appreciated it was not going to be a walk in the park. The position I had held before that was as an account manager so naturally, I was used to calling people all day. Driving a 3.5 tonne van isn't really a skill that needed too much developing nor did a driver's 'mates', so I mainly worked on getting good honest candidates that I felt were reliable and could build a friendly relationship with. I quickly found my well developed and large circle of mutual friends and acquaintances, which meant my staff were more than happy to be offered new, exciting positions that were well paid, and they were thrilled.
Now you've joined iO US, what are you most looking forward to?
What I am most excited about in joining iO US is working with a team of such highly skilled specialists. I'm pleased to have the chance to learn as much as I can from them about being the best recruiter as possible whilst still being able to thrive through my skills in building relationships too. And in particular, joining the team on this exciting venture to the states, and pioneering the company's journey into the US market.
​
We are delighted to have Josh on board and join our rapid growth ambitions over the next few months!
iO Associates are a specialist, cloud technology staffing firm. We support our clients throughout their journey to becoming cloud native and have extensive experience in recruiting the highest calibre of talent to create the products and infrastructure of the future.

Our team are immersed in the US tech community and we know that every business is different. We work with permanent and contract candidates to support clients with single and multi / project hiring requirements. Our partnership approach allows us to create bespoke talent acquisition strategies to best meet your needs.
Please get in touch if you would like to discuss any of the above: info@ioassociates.com